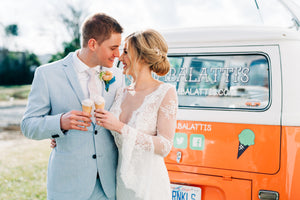 Your wedding just got cooler. Literally.
Weddings
Private Parties
Corporate Events
Love is sweet
Sprinkles - the traveling ice cream VW Bus - just makes things...sweeter. Book Sprinkles for your wedding, private party or corporate event in Wilmington, NC and the surrounding areas. 
Sprinkles is our antique 1971 Volkswagen Bus outfitted with an ice cream freezer and pop up roof! We pack Sprinkle's freezer with your choice of four flavors of our delicious, homemade ice cream and head your way barely cracking sixty MPH if we're lucky. We'll scoop for your guests for a full hour. Do you have a guest who may want seconds? Thirds? Um, fourths? (I can relate…) Not a problem! After the hour we'll quickly tear down and pull away leaving your guests full and happy.
Our pricing for events located within ten miles of our shop starts at $995 (plus 7% sales tax) for parties of up to 100 guests. Add $250 for each additional fifty guests. Need a little more time? Additional hours can be added for $195. And feeling extra fancy? Let us set up a top-it-yourself sundae bar with five delicious toppings for $195. Guests can pile on the rainbow sprinkles to their heart's content.
Have an event a little farther away? Something crazy in mind? Get in touch and we'll work out the details!
We only do one event daily, so get in touch if you'd like to reserve your special day. Sprinkles is already looking forward to it! 
Rollin' with our homies
On an alternate planet, we'd like to replace brownie points with ice cream points and these brands all get several scoops. Thanks, y'all!