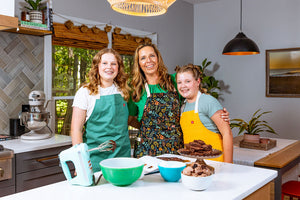 The Family Behind Wilmington's Favorite Ice Cream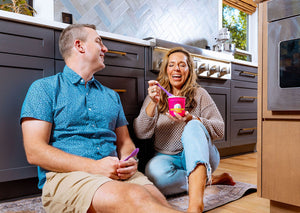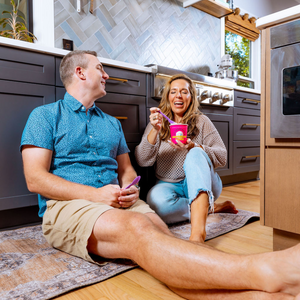 The Family Behind Wilmington's Favorite Ice Cream
Meet The Bechtels
Wilmington loves Boombalatti's Handcrafted Ice Cream but what goes down in the home kitchen of the family behind the beloved pints? How did they become obsessed with ice cream? What's the scoop on their enormous assortment of flavors? Home is where the start is — the start of all Boombalatti's flavors. That's because their passion for ice cream and desserts comes from a long lineage of bakers. We'll take a look inside their oven and open up their personal freezer to find the answers to all of the questions and more. Meet The Bechtels.
What's Cookin', Good Lookin'?
Before Kristen and Wes became The Bechtels their dates always seemed to center around food. In fact, their very first date involved pancakes and three, yes three different types of pancake syrup (iykyk). They loved nothing more than trying a new dish at home or dining out. Cooking, baking and tasting were a way of life and as it turns out their favorite flavor of love.
Eight Feet of Cookies
When the wedding bells rang for Mr. and Mrs. Boom (a nickname they sometimes take on), they celebrated with cake, sure, but they also celebrated with cookies — eight whole feet of them. Google "Youngstown Cookie Table Tradition" and you'll understand the hype. For these newlyweds, however, the cookies symbolized a whole lot more than hype. Their cookies were as much a part of them as their genes. Recipes for mint meringues, cornflake cookies, peanut butter bars, springerle, clothespin cookies, chocolate and orange drop cookies and many more were passed down from grandmother to mother to child and down the line. As the young couple stood there in seersucker and white dress, they knew their mutual love for desserts was special but had no idea how, down the road, the sugar in their bloodlines would come into play.
Grandma's Secret Stash
Kristen's mom taught her how to bake as did her grandma. Although her grandma was unable to walk much, she still found her way to the end of the kitchen table where she gathered everything she needed to bake. When Kristen says her mom was always in the kitchen, she's not lying. Her mom catered and baked cookies and cakes for a living and Kristen was there to help. To make the story sweeter, Wes's grandmother also loved baking. Her cookies were always plentiful and legendary. Wes says it was something about all those shapes and flavors and textures and colors that really stuck with him and hints that these cookies are part of the reason why they're so excited to create fun, new ice cream flavors whenever they can. 
One day while assisting Wes's grandmother during the holidays, Kristen surveyed the room and logistically could not figure out just where all of these cookies could possibly be stored. The kitchen was full. Wes's grandmother said to Kristen, "Come with me," and showed her a secret back staircase. From that special moment, the women began exchanging letters. In response to Kristen's words, she received back hand-written recipes she would later use to bake with her girls.
Mr. & Mrs. Boom
In the presence of Kristen and Wes, two things are obvious. One — they are very much in love. Two — Wes loves ice cream and Kristen's not ashamed to joke that he almost loves the frozen dessert more than he does her. All jokes aside, Wes comes by his passion for ice cream honest. He grew up thinking it was perfectly normal to have a minimum of two half gallons in the freezer at all times. He remembers visiting the local ice cream shop his family stopped at to cool off after road trips through the countryside or a summer swim in the creek. He says once he realized he wasn't going to be a rockstar or the first baseman for the New York Yankees, he settled on the third best possible career in the world — ice cream. 
What's in the Freezer
A day in the life at The Bechtel's likely involves at least one hand in the freezer. So what do the owners of Boombalatti's Handcrafted Ice Cream keep in their home freezer? Three flavors are always close at hand. Airlie can't go wrong with Chocolate — a classic. Stella is the queen of Chocolate Fudge Brownie. Kristen keeps up with the Cannoli while Wes insists on keeping Coffee Cookies and Cream for a mid-afternoon affogato. What else you might ask? Seasonals because there's always an ice cream to celebrate. Last but not least, top secret, soon-to-be flavors because somebody's got to taste test. 
Airlie's Golden Rule
In the South, some might leave the "g" off of the "pudding" but they sure don't leave the banana pudding off the red and white gingham tables at pig pickings, church picnics and cookouts. The stuff is edible gold. Shockingly The Bechtels, who are NC transplants from Pennsylvania, had never tried the stuff until they settled in Wilmington and so their tradition began. 
No boxed stuff, please. After experimenting with recipes from Food Network and magazines, the fam finally decided on their favorite take and Airlie likes to take charge on this beaut that looks fabulous and fancy in a glass trifle dish when they take off to family and friend outings. Only real bananas (none of the fake stuff). That's the golden rule.
Did we mention that for almost every dessert The Bechtels make, they spin that recipe right around into ice cream they might serve at their three Boombalatti's shops? We should have and we will here because Banana Pudding is a staple. 
Stella's CFB
Don't know what CFB is? Sounds like market research is on your honey-do-list! CFB or Chocolate Fudge Brownie is a fan favorite at Boombalatti's and maybe that's because if we were to rate its historical juju within the context of The Bechtel family, it might take the cake. By two years of age, Stella and Airlie were in the kitchen standing on stools, stirring things up. Dad had an Alton Brown recipe and mom was assisting in all things chewy, gooey and good for their girls to learn to love creating. Stella wins the blue ribbon for her love of CFB, both in cheffing it up and enjoying it on any given sundae. 
Should we let you in on a little secret? Chocolate Fudge Brownie is next in the lineup of staple pints they'll offer in shops and online year round. Stay tuned in 2024!
Cocktails & Coffee
Whether it's 5 o'clock AM or 5 o'clock PM, The Bechtels have a rituals for any time of day. Coffee and cream? Make that ice cream, of course! Afternoon affogato pick-me-up? Wes is on it. Milkshake snack? Airlie and Stella are all about it. Cocktails by the pool? Just add seasonal sorbet. Cheers to ice cream fanatic pro tips for a well-rounded day!
Experience Over Stuff
Making memories and making ice cream — it's what the creators of Boombalatti's do best. That's why Experience Over Stuff is a motto the family stands by. What does that mean for Wes and his girls? Trips. Lots of family trips. What's that? A new ice cream shop in a town they've never set foot in? This calls for market research. As Kristen claims, Wes cannot say "no" to ice cream even if it's prepackaged from a truck. But The Bechtels don't just make ice cream after tasting ice cream to stay on-trend. They find their inspiration in all food. Kristen once saw a pastry chef make an Italian Cream Cake. Yep, she turned that into ice cream. Their Vietnamese Coffee flavor was inspired close to home. Ever tried Indochine's Thai Coffee? It's the inspo. The list of travel-inspired flavors goes on and the motto proves true that experiences can be captured not just by camera but by melt-in-your-mouth spoonfuls created by yours truly.
Try some of The Bechtel's favorite dessert-inspired flavors with All Those Other Desserts collection.