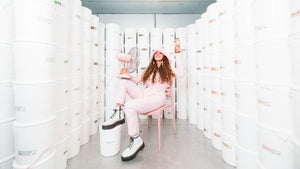 Homemade just hits different
Homemade Just hits different
On any given Sundae, you might choose to add one of over one hundred flavors to your custom ice cream creation. So where is all of this ice cream made? Let's take it to the house because that's where it's all made.
Cooler than you thought
I don't always chill in the walk-in freezer (nicknamed The Big Chill), but when I do, I feel cooler than you'd think. Why? Because we make every single flavor in house. To be a part of that, well, that's an ice cream dream come true. Let me take you on a little tour.
xo,
Sydney, Production Manager
Meet Betsy
When we say our ice cream is fresh, we mean we make every single scoop of ice cream right here in Wilmington. And we get our dairy delivery every week. Whatever you're eating now was in a cow two weeks ago. Before it gets to you, it gets to Betsy (or her younger sister, Luanne). I guess technically they are machines (top-of-the-line Carpigiani machines, to be exact) but I think of them more as family. They are my main squeezes when it comes to combining our ingredients and freezing them all at one time.
Our Ice Cream Philosophy
Ice Cream is good. Ice Cream made with local NC Grass-fed Dairy is better. Ice Cream without the artificial flavors and colors is better for you. So while our Mint Chocolate Chip isn't green, we think you'll thank us for it. When we say Banana Pudding, we really go bananas. By that, we mean we add real, extra-ripe bananas. Not some syrup that comes in a jar. We're not here to fake you out. We're just here to put the smile in your mouth.
'Tis the seasonals
All three shops carry 20+ homemade flavors at a time including about 16 year-round flavors and vegan/nondairy options. Then, we have our seasonal limited releases. Some seasonal flavors - like Peppermint Stick and Gingerbread - are staples. Others come to us in our sweetest of dreams - like our spring Bloombalatti's series. And, some - like a most recent newbie - Matcha Ube - are a literal science experiment crossing ceremonial green tea from Japan with purple yams originating from the Philippines just to see what happens. So what's the best way to take a sneak peek at what's in shops today? Two words - Instagram stories.
Mom & Pop
No, their last name is not Boombalatti's but they are the owners of the three mom & pop Boombalatti's located in The Forum, Downtown and in Hampstead (plus, Sprinkles the vintage VW ice cream bus). They're Wes, Kristen, Airlie and Stella Bechtel. We wouldn't be here without them - the Boombalatti's brains behind the business.
Back to Cool
Speaking of bosses, they took us to ice cream school. Didn't know it existed? Now you do! We believe in higher education and are proud graduates of Penn State's Ice Cream short course, the longest-running and largest ice cream class on the planet. From petting cows, to thermodynamics, to sampling almost one hundred flavors created across the United States, we keep our cool by keeping our brains and bellies full!
We couldn't do it without our team.
Thanks to these lovely ladies, your Boombalatti's is served! Visit one of our three locations to try our homemade ice cream. Not from around here? No problem! We ship our ice cream nationwide!
Emmlie
Locate
Ivey
Locate
Alyssa
Locate
Try our managers' favorite flavors with the varsity squad collection.